What can melamine molding powder be used to make?
1. Kitchenware and dinnerware
2. Fine and heavy tableware
3. Electrical fittings and wiring devices
4. Kitchen utensil handles
5. Serving trays, buttons, and ashtrays
Why melamine tableware is suitable for kids?
Compared with plastic tableware, melamine tableware can hold hot soup and noodles.
Compared with porcelain and glass tableware, melamine tableware is not fragile.
Compared with stainless steel tableware, melamine tableware has good heat resistance, so it is easy to hold.
Because melamine tableware has such good advantages, it is very suitable for children to use. More and more parents choose melamine tableware for their kids.
Advantages:
1. Durable, anti-fall, not easy to break.
2. Heat-resistant and safe temperature range: -10 ° C- + 70 ° C.
3. Non-toxic and acid-resistant. Free of heavy metals and BPA.
4. Rich design, smooth surface, bright as ceramic.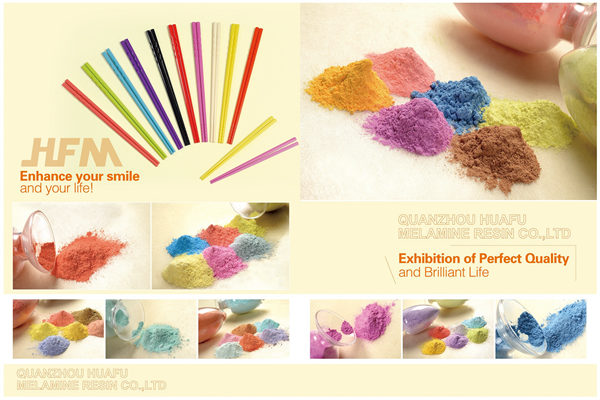 Certificates:

Storage:
Keep containers airtight and in a dry and well-ventilated place
Stay away from heat, sparks, flames and other sources of fire
Keep it locked and stored out of reach of children
Stay away from food, drinks and animal feed
Store according to local regulations
Factory Tour: